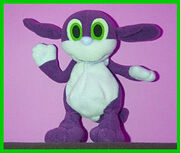 Blueberry
was a very special
Purple Mountain Norn
, one of the original
norndolls
. She was kidnapped from the
Cyberlife
booth at the E3 games conference in late May 1998 (
see history
). An offer of £1000 was made for the safe return, or £500 for information of
his
whereabouts (
Cyberlife
not having realised that Blueberry was, in fact, female), but despite various ransom notes and other documentation of dubious provenance from the
Creatures Community
, the reward remained unclaimed for almost a year until the kidnapper - a freelance games journalist named
Richard Moscatello
- came forward.
The ransom notes in question came from a group identifying themseleves as the 'Phat Clan'. Among other things, they demanded a version of
Creatures 2
for the
Mac
;
Toby Simpson
had stated in the Februrary 1998
newsletter
that no such version would be released. Some suspected this was a premise to announce the surprise release of Creatures 2 for this platform, but this turned out not to be the case - although they did initially relent and promise a Q1 1999 release for the Mac, it was cancelled.
References to Blueberry
External links
Community content is available under
CC-BY-SA
unless otherwise noted.