The most peaceful part of the
Shee Ark
is, predictably, home to the
Norns
. Also in this
terrarium
are
doors
to the
Learning Room
, the
Graveyard
, the
Jungle Terrarium
, and the
Bridge
.
The room features a bustling but somewhat unbalanced ecosystem. Food sources include apples, carrots and the seeds that fall from the tree. Among the wildlife are Trout, Grazers, Gosh-hawks, Dragonflies, Ants, Bees, and numerous other critters.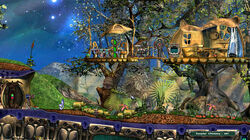 It also contains the Recycler that will recycle unneeded items, turning them into bioenergy for the ship.
There is a Treehouse and Egg Layer in this Terrarium. There are several places in the trees for birds to build nests. There is also a pond.
| | |
| --- | --- |
| Native Critters: | Native Plants: |