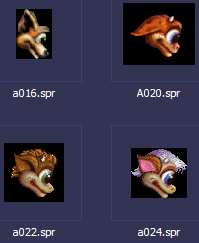 The Sprite Thumbnail Viewer is a tool for Windows made by GreenReaper that allows you to preview sprite files for Creatures series games in Windows Explorer, just like other image files. Considering how most sprite files have four-letter names, this is very useful for figuring out what image file you want to edit!
The viewer works on SPR files (C1), S16 files (mostly C2) and C16 files (C3 and DS). Sprites are shown as thumbnails in Thumnail view mode (except on Windows 98), and on the left in the Details section in other views. There is nothing to configure, just install it and start viewing thumbnails!
Download the Sprite Thumbnail Viewer:
If you have problems installing it, you may need the MSI 2.0 installer:
You are free to upload this tool to your own sites as long as you say who made it, and point users to this page for more information. --GreenReaper(talk)
Community content is available under
CC-BY-SA
unless otherwise noted.