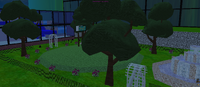 SteerPike (aka Max Jerome) was an early community great who frequented alt.games.creatures and its binary counterpart, the a.g.b.c. He was a master COBbler and webmaster of SteerPike's Curiosity Shoppe and SteerPike's Albian Fun House and Pandemonium Shadow Show, where his COBs remain available. He also composed music, some of which was used in his COBs and on his sites, and wrote Creatures-themed poetry, including the (in)famous Quoth the Naven.
After his untimely death on 15 January 2000, a dedication to all of his work in the CC and elsewhere was done by another community member in his honor. He also has a memorial site on New Tiburon and a memorial garden on AlphaWorld in Active Worlds.
External links
Community content is available under
CC-BY-SA
unless otherwise noted.