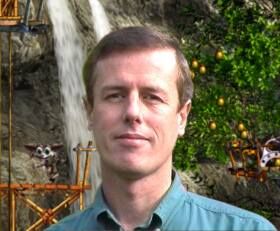 Steve Grand OBE was responsible for the architecture and programming of the artificial life engine in Creatures, and the ideas present in this have had an effect on all games in the Creatures series. He regards his job as being a 'Digital god', which is perhaps not unreasonable considering some of his achievements; he defined much of the in-game mythology (though he admits he 'stole most of [it] from the early English and Scandinavians'), as well as coming up with Norns, Grendels, Ettins and the Shee (originally 'Siðe').
Steve began working on Creatures - originally envisaged as a DOS game - in late 1992. In 1994 Millennium set up a subsiduary, Cyberlife, to develop his ideas, and he became Director of Technology soon after the release of the game. Steve organized and spoke at the Digital Biota 2 conference in Cambridge in 1998. Steve became leader of the Cyberlife Institute R&D lab upon its founding in late 1998. The Institute closed when he left Cyberlife at the end of 1999, although he gained permission to use the name for his new company, Cyberlife Research. See history and interviews for more information.
Steve was married to Ann Grand, who also worked for Cyberlife Research. They have one son, Christopher.
Steve has begun work on an new Virtual Life game, called Grandroids.
Steve resides in Flagstaff, Arizona and has worked on creating an intelligent living machine called Lucy in a custom-built mechanical body shaped like an orangutan. He managed to get £65,000 towards this goal from NESTA - a fortunate benefactor, as he didn't personally make a huge amount of money from the success of Creatures, being 'just an employee' (although he did have some share options in Cyberlife). He released Simbiosis open source under the release name Simergy on SourceForge. He was also involved in the NESTA Create-a-Creature project, and is a wiki user.
Publications
Awards
Interesting Trivia
External links