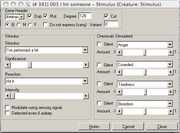 A stimulus is the message that an agent or COB sends to a creature, usually because the creature is interacting with it. The stimulus tells the creature that an event has just occurred (such as I have played with a toy or I have been tickled by the pointer), alters predefined chemicals by a specific amount, and in the later games, can prompt the creature to react in a certain way. Stimuli form one of the major ways that a creature experiences the world, and instincts are geared to help guide creatures towards pleasant stimuli and away from painful stimuli.
Stimulus genes within the creature's genome are responsible for determining which chemicals are raised or lowered when a stimulus is received, and how much, and how the creature may be prompted to respond. Unlike an instinct gene, which suggests which action a creature should perform to get a certain result, a stimulus gene describes the outcome of performing an action.
See Also
External Links
Community content is available under
CC-BY-SA
unless otherwise noted.